LinnaLove | Medical Alert Jewelry
Linnalove Stylish medical Id bracelets and medical alert jewelry for men, women and kids, Create your own custom engraving medical bracelet now !
Linnalove's lovely medical id bracelets & necklaces are all created by Linnalove's designers!
Combining the characteristics of metal and fashion factors, each piece of medical id jwelry is not only a product with medical alert, but also a beautiful fashion jewelry! Won the praise of many customers!

Linnalove provides you with professional and reliable medical id jewelry, including medical alert id bracelet, medical alert necklace, medical alert tags,medical id keyring and more,

Linnalove's fashionable medical id jewelry is made of titanium or 316L stainless steel, exquisitely polished, so that every medical id jwelry is very comfortable to wear, non-allergic, nickel-free, lead-free, non-fading sturdy material makes these medical id bracelet & necklace can wearing 24/7

Linnalove stainless steel or titanium medical id bracelets are available in various forms, with links, interchangeable, elastic, cooperate with leather, silicone sport, flexible and adjustable in size, to meet all user requirements for medical id jewelry

We use fiber optic laser machines to customize and engrave personalized medical conditions for customers. Every medical id jewelry will be carefully typeset, so that customized personalized
information can be displayed clearly and with high quality!

All linnalove medical id jewelry are equipped with a Medical alert id wallet card to help you record more information and carry it with you!

All linnalvoe medical id jewelry has exquisite packaging bags and boxes, which are suitable as gifts for your relatives and friends!
FAST DELIVERY: We have overseas warehouses in the United States and the United Kingdom, and many pre-engraving medical id jewelry can be delivered locally in the United States and the United Kingdom, and can be delivered to customers within 1-2 days!
Customized products can also be delivered quickly. We cooperate with many courier companies and have actually delivered to the United States and the UK within 7 days (excluding overseas and APO/FPO addresses), and 15 days to Canada, Australia, New Zealand And most of Asia and EU countries!

FREE SHIPPING ON ALL ORDERS OVER 35USD!

BUY WITHOUT RISK:All Linnalove medical id bracelets & neckalce come with a 30-day no-questions-asked return guarantee and a 90-day quality guarantee,
Any product defect due to quality reasons can get a fast return service! Please visit our Warranty Policy page for details
IMPORTANCE OF MEDICAL ID JEWELRY

Medical ID bracelets reduce treatment errors, speaks for you in the event of an emergency if you become unresponsive,provides for a quick recognition of your medical conditions, allergies, medications, or treatment wishes; this leads to faster and more effective medical treatment. A medical ID will save your life and the lives of those you love.

WHO NEEDS TO WEAR A MEDICAL ID?

Have the following Medical Conditions We recommend to wear Medical Alert Jewelry: Alzheimers's, Asthma, Breast Cancer, Diabetes, Epilepsy, Fibromyalgia, Food Allergies, Gastric Bypass Surgery, Heart conditions, Pacemaker, History of Stroke, Taking Oral Medications, Taking Insulin, and many more health issues to alert medical professionals to save your life.

WHAT CAN WE DO FOR YOU?

We carefully selected for you the best quality medical id jewelry, it is mainly reflected in two aspects, 1: excellent quality, the use of surgical grade stainless steel and titanium with advanced processing technology. Wear-resistant, all-weather work! 2: fashion beautiful, all unique design, fashion, suitable for you every day to wear, do not feel outdated!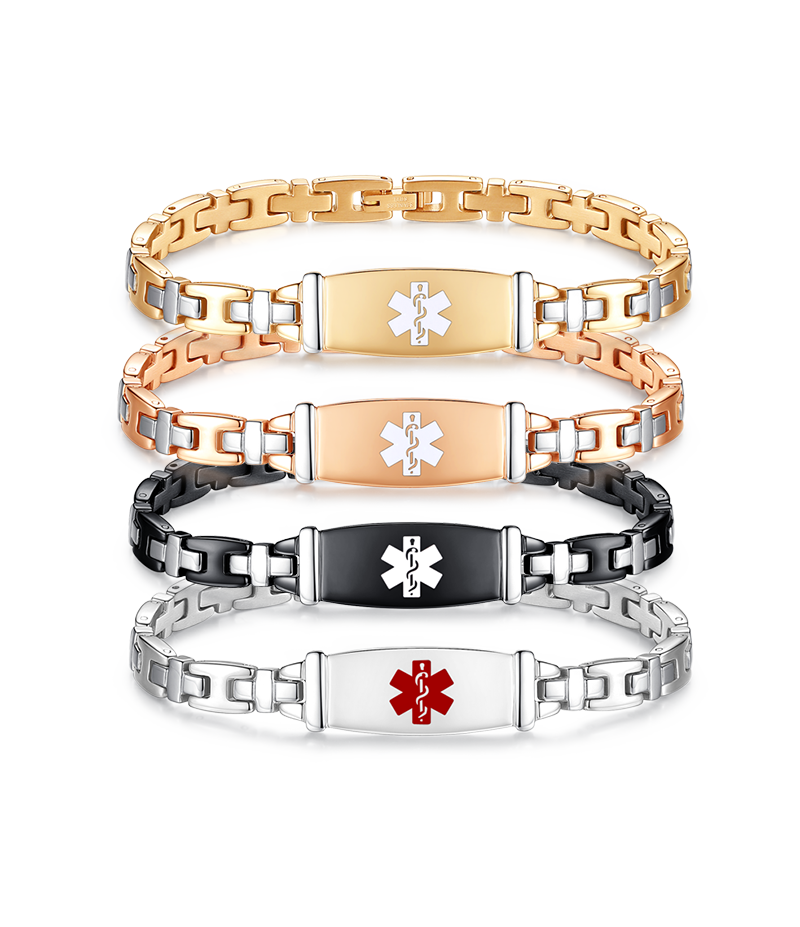 MEDICAL ID JEWELRY ADD AN INSURANCE TO YOUR LIFE
Medical id jewelry can do:
Your medical ID provides for a quick recognition of your medical conditions, allergies, medications, or treatment wishes; this leads to faster and more effective medical treatment.
First responders and medical personnel are trained to first look for medical identification jewelry in an emergency. Medical IDs will immediately alert emergency medical professionals to your critical health and personal information.

Medical ID bracelets reduce treatment errors which may result from not having a patient's health record during an emergency situation or upon hospital admission

Because the medical id jewelry so important, the National Federation of doctors, health organizations and some NPO are strongly recommended to have medical conditions people wear medica alert id jewelry,
Reduce the disease casualties, improve the quality of life, is the common goal of mankind!
SHOP